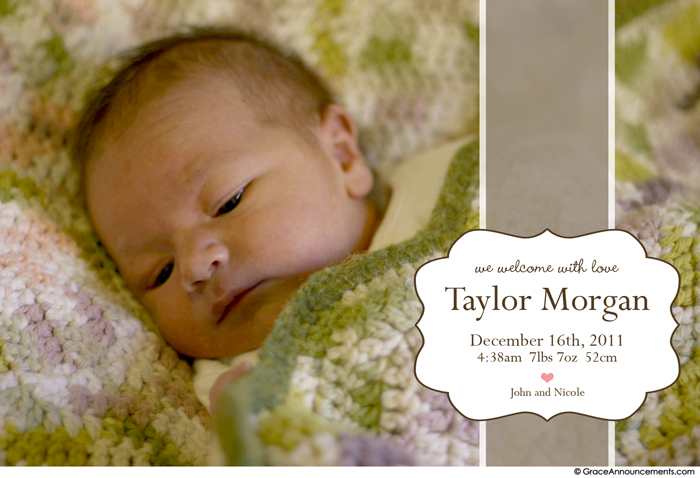 If you recieved the above-pictured birth announcement, would you call your friend to congratulated them on the birth of the son? Their daughter? Or would you remain neutral and say baby? (image provided by Lindsay Brewda of Grace Announcements).
When I was writing the lyrics for Name Your Tune I took special care that every song, every mention, was gender neutral so that little boys and little girls named Jordan could have the same set of personalized songs.  You see, we don't have a box to check off that asks if Skylar is a boy or a girl, we knew the trends were moving in that direction and they have been for some time.   It didn't occur to me until last month when Jessica Simpson named her daughter, that I would ever question whether to use my "boy" or "girl" giftwrap for Maxwell Drew.
I saw the Twitter stream explode with the news that this much-anticipated baby girl had been born…and then, given a boy's name. Interesting, I thought. It's not the usual gender-mixing of names that I see often. Then it occurred to me that my daughter's middle name is James, to honour my grandfather, just like my brother's son.  Following the breaking news a little further and deeper revealed the meaning behind her choice: Maxwell is her husband's middle name and Drew is her mother's maiden name.  So it has meaning for the new parents and their families and this little girl named Maxwell will grow up knowing that she was named after people that she loves and that love her.  I'm going to predict that Maxwell Drew will go through her life encountering looks and comments of surprise when she arrives at an appointment or a meeting and they were expecting a boy or a man.  She'll get used to it or it will frustrate her. That will be up to her. You see, that is always the burden and the gift of our name.
Sometimes the spelling of a name will give clues to the gender of the bearer such as spelling Sidney (boy) or Sydney (girl), Cameron (boy) or Camryn (girl), Charlie (boy) and Charlee (girl). But those sneaky and once-though clever y's, double e's and silent h's don't always give it away. Sometimes they make it even more blurry.
While Maxwell Drew assuredly is the most uncommon gender-bender I've come across, I've put together a list of other names assures me that I made the right decision to go gender-neutral for Name Your Tune and that make me go to my box of giftwrap with multi-coloured polkadots instead of flowers:
Jordan
Quinn
Ryan
Taylor
Riley
Rowan
Morgan
Payton
Jamie
Emery
Teagan
Avery
Logan
Sydney
Finley
Jayden
Emerson
Charlie
Dani
Mackenzie
Devon
Harley
Casey
Spencer
Corey
There are two things that always come to mind when I think about these gender benders.
My favourite gender bender story is that of the (male) Enlgish writer, Evelyn Waugh.  He married Eveyln Garnder and when she took his surname, they were both Evelyn Waugh. Their friends called them "He-velyn" and "She-velyn".
Then there's this, "A Boy Named Sue", by Johnny Cash. A little known fact about this song: It was written by Shel Silverstein. Here are some of the lyrics.
My daddy left home when I was three
And he didn't leave much to ma and me
Just this old guitar and an empty bottle of booze.
Now, I don't blame him cause he run and hid
But the meanest thing that he ever did
Was before he left, he went and named me "Sue."
Well, he must o' thought that is quite a joke
And it got a lot of laughs from a' lots of folk,
It seems I had to fight my whole life through.
Some gal would giggle and I'd get red
And some guy'd laugh and I'd bust his head,
I tell ya, life ain't easy for a boy named "Sue."
Well, I grew up quick and I grew up mean,
My fist got hard and my wits got keen,
I'd roam from town to town to hide my shame.
The story of "A Boy Named Sue" and the follow up from the father's perspective that Shel Silverstien wrote years later, "The Father of A Boy Named Sue", illustrates that the name was given in hopes that Sue would grow up to be strong and tough – the antithesis of the feminine name.
Did you give you child a gender-bender of a name? What was your motivation?
Originally published at Yummy Mummy Club